Services Offered
What do a quaint outdoor fireplace and a vast commercial parking lot have in common? They both require the skills of an experienced contractor in order to be completed with any degree of success. Thankfully for the residents and business owners of Reno, the requisite skills for both of those jobs, in addition to many others, can be found right under one roof—at Nevada Pavers & Stone LLC. With over 9 years of experience in the trade, we are skilled masonry contractors, concrete contractors, and paving contractors in equal measure. Whether you need a decorative retaining wall for your garden or large-scale asphalt paving for your parking lot, our team has you covered.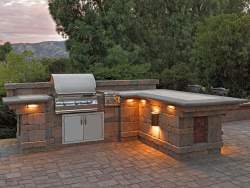 We have the tools and experience necessary to work with any of the following materials:
Bricks
Flagstone
Slate
Tile
Veneer stone
Pavers
Stone steppers
Gravel
Concrete
Asphalt
From driveway sealcoating to landscape retaining wall installation, there's no job too big or small for our team. Call or e-mail us today to learn more!
Masonry Services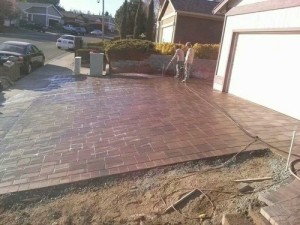 Whether residential or commercial, masonry services naturally demand a great deal of precision and attention to detail. That's why you need our team at the helm. Nevada Pavers & Stone LLC will happily work with you to design and construct the masonry project of your dreams. Our masonry contractors can work on any of the following:
Patios
Walkways
Retaining walls
Outdoor fireplaces
Pool decks
And more!
Concrete Services
Concrete is permanent. It's unforgiving. If you make a mistake, there's no going back. That's why you don't want to undertake a DIY poured concrete project and certainly don't want to hire an amateur for stamped concrete. It's well worth the investment to hire the skilled, experienced professionals at Nevada Pavers & Stone LLC for the next concrete service you need. Whether it's for a patio, a garage floor, or a sidewalk, you can feel confident that the job will be done flawlessly the first time. 
Paving Services
Proper asphalt paving is no easy task. In fact, there are many steps required before the paving can even begin. When you're looking at a large-scale paving project like a new driveway or parking lot, you want to be 100% certain that every step is completed thoroughly and correctly. Thankfully, you can rely on the meticulous paving contractors at Nevada Pavers & Stone LLC to do just that!
We don't just claim to be the best around: We put our money where our mouth is by offering a full-year warranty on all of our labor. We also provide customers with free, upfront estimates before any job begins. If you're ready to drastically improve the appearance or function of your property, what are you waiting for? Give us a call or send us an e-mail to book an appointment!