Walkways and Patios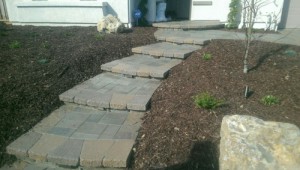 Hardscapes like walkways and patios can totally transform your property. If you're searching for a local contractor who can install the patio, walkway, retaining wall, fire pit, or other masonry feature of your dreams, call Nevada Pavers & Stone LLC. With over 9 years of experience in the trade, we cater to the needs of our customers with walkways and patios worthy of the finest Reno-area homes. By combining top-quality patio/walkway materials with our exceptional customer service and affordable rates, we'll put the wow factor in your residential or commercial property. Give your yard and landscaping an upgrade: Contact our professional patio builders today.
At Nevada Pavers & Stone LLC, we use only the best materials in the industry for our outdoor patio and walkway installation work. Whether your project requires brick, flagstone, slate, or pavers, you can count on our expertise and the quality of our materials to get the job done right. We refuse to cut corners when it comes to the construction of our outdoor walkways and patios.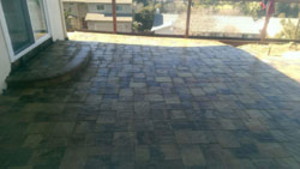 You'd be amazed how custom-built walkways and patios can pull your green spaces together and give your property great flow. Whether you'd like connected pathways for gardens or a centralized patio location for entertaining guests, Nevada Pavers & Stone LLC is your solution for:
Paver hardscapes
Brick walkways
Flagstone patios
Retaining walls
Decorative borders
Outdoor steps
Pool hardscaping
And more!
No matter what your tastes and style preferences, our walkway and patio builders will be able to turn your vision into reality. Nevada Pavers & Stone LLC can coordinate your favorite patterns and colors to help you achieve a totally customized look from your patio walkway pavers. Let your personal style shine through with our unique walkways and patios. Call us today to hear about our 1-year warranty!
Perfect Flagstone Patios
Brick, flagstone, and pavers can all make for a showstopping outdoor patio. Whether you fancy brick patios or flagstone patios, you're sure to appreciate the seemingly endless variety of shapes and styles available from the patio builders at Nevada Pavers & Stone LLC. We can even incorporate retaining walls and other features to make your garden patios truly something special. To see the incredible portfolio our patio installers have compiled, give us a call!
Beautiful Brick Walkways
Nothing is more inviting than a beautiful brick or flagstone walkway leading straight to your front door. Don't wait until visitors are inside your home to roll out the welcome mat. Stop them in their tracks at the curb, with a stunning brick walkway from the team at Nevada Pavers & Stone LLC.
Retaining Walls
Outdoor Fireplace
Walkway Design
Stone Patio
Masonry Contractors
Outdoor Kitchens
Stair and Walkway Masonry
Stone Wall Design